Welcome….
..and what is mead?

Well, it's not beer. Mead is a fermented honey must that gives a wine that can be compared to sherry, Sauternes, semi-sweet and dry white wines.
The mead gets flavor of hops, rose hips, sweet gale, blackthorn etc. Mead keeps an alcohol content of between 9 and 19%. Higher percentages is obtained by adding brandy.
Perfect for a "hygge" on the terrace, the soup, fish, desserts, foie gras or a great blue cheese.
Or the Nordic Mojito: mead, ice, mint leaves and lime ... delicious on a hot summers day as welcome drink or just on the Saturday, you do not bother doing anything else than relax and discuss: "What's for dinner?"


Malling Mjød
makes dry meads...

Malling Mjød makes dry meads as the only meadery in Denmark. Meads that work well modern dishes and cuisines. Meads, that can be drunk with food or in food and for marinades. So forget mead as the sticky, sickly sweet stuff you've been used to in the past. You will not get a sweet substance in your mouth, but good, clean and honest mead flavor. Malling Mjød works with new yeast types that give a more vinous taste in the mead. Our inspiration comes from Central Europe and America, where more light and useful meads are produced. Malling Mjød also makes semisweet meads for cheeses and desserts, but still not candy sweet types. We make meads that go with the whole meal - from the apéritif to the digestif…

A bottle of Malling Mjød is at least a year in the making. Without chemicals. Without sulfits. The meads have a minimum durability of 30 years. You do not have to drink the whole bottle, just pour what you need, use the practical lid and store the bottle back in a cool place...

The honey is from our region of Denmark, made by local beekeepers. So we are true to our "terroir". The herbs and fruits are picked wild in the local area surrounding the town of Malling. They will either be laid in the mead during fermentation or added as tea or extracts. We are currently doing experiments with blackthorn, tormentil, meadowsweet and bog myrtle. And we're constantly adjusting our existing meads, optimizing flavor and mouthfeel.
Malling Mead uses the old traditional Danish herbs and fruit in new flavors.

Pay us a visit and taste!


If you have a sudden urge to taste the mead from Malling Mjød, just give us a call. We'll set up an appointment and open the doors to the meadery for an impromptu and friendly tasting. You do not have to be a big party, you are always welcome to try out the current meads in stock and have a wine and mead chat…we can talk for hours about this great drink - and "hygge"...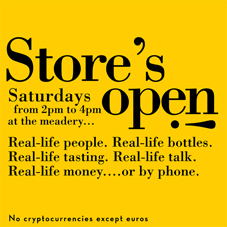 The background photos on this site is made by nilshenrik.dk. Our intro photo of the Dry Egelund Mjød is taken by Hans Peder Sølvbjærg, you'll find him at solvbjerg.dk. Hans Peder also takes the great product photos.